Each technology innovation brings new ways to build and engage communities.
Today's major tech giants uncovered innovative tactics to grow to almost unimaginable size but we think it's time for a fresh, Web3-native approach to building a community fully onchain.
We're thrilled to partner with Mirror to launch a new feature that will enable us to continue to develop our onchain relationship with our users and community.
Alpha Inside: Keep reading to mint an NFT exclusively for our Mirror subscribers.
The Onchain Branding Moment
Traditional marketing doesn't work in Web3.
Major digital platforms are highly suspicious of crypto and scammers can easily outbid legitimate businesses. When everything is about who has the deepest pockets, nothing (and no one) else really matters.
Organic channels are equally broken with search engines and social media overwhelmed with low-quality content made for algorithms not people. The arrival of AI will only make these problems worse.
The only reliable guiding light is a strong on-chain brand users can trust.
What is an Onchain Brand?
Onchain brands develop deep relationships with their users, community and fans rooted in the blockchain. They communicate through onchain interactions with addresses owned by their audience.
A simple example is an NFT collection. When users mint an NFT collection, they effectively own a piece of the brand. Other people see the brand in their wallets. It becomes a part of their onchain identity.
Elements of onchain branding:
Onchain interactions build direct and deep connections with the audience — for example, NFTs exist right in their wallets

The wallet footprint shows how many people have been directly exposed to the brand, for example, through minting and owning NFTs

Others can see brands in wallets of their friends, influencers, etc — this is huge because even if your brand lives as a physical card in their physical wallet, nobody can see that.

There are no fixed "story modes" or entry points with on-chain brands. Multiple entry points mean users can go as deep or as shallow as they want in their fandom. You can hang out in the brand community for free. Or you can own 100 ETH worth of NFTs from that brand. There is no right or wrong way.
Finally, onchain branding is opt-in first. You interact (e.g. mint an NFT) with the brand only if you want. You are always in control.
Our Approach at Zerion
We started experimenting with onchain marketing and branding before we even crystallized it into a strategy. Here are a few examples:
Zerion Genesis NFTs

Launched in 2021, Zerion Genesis Collection was our first NFT.
For a limited time, Genesis was free to mint. It was also a fun way to launch NFT portfolio tracking features and show that Zerion had grown into much more than a DeFi tracker.
Zerion DNA

Zerion DNA is a free-to-mint dynamic NFT with 60,000+ unique owners and counting that changes with all your on-chain actions.
The NFT avatar's appearance evolves as you trade and perform other on-chain actions. But this happens only if you have the NFT in your Zerion Wallet.
Zerion DNA holders are also the first to get exclusive perks from our partners — for example, their addresses were whitelisted to claim Lens Protocol profiles.
Zerion.lens Collectable Content
We partnered with Lens Profile early on in their journey.
We also post content at Zerion.lens.
If you have a Lens profile, you can follow us and collect many of our posts.
Discord Onboarding with Guild.xyz
Zerion's Discord server, with 45,000 members, is still the main hub for the Zerion community.
But it's not just boring old Web2. We use Guild.xyz to bring Discord onchain. Over 20k people have connected their Ethereum addresses and many of them hold Zerion DNA and get special server roles.
POAPs for Zerion Events
We hold bi-monthly Zerion Connect calls on our Discord where attendees can claim a Zerion POAP. We also have ultra-limited POAPs for Zerion IRL events like the Web3 Healing Sunday in Vietnam.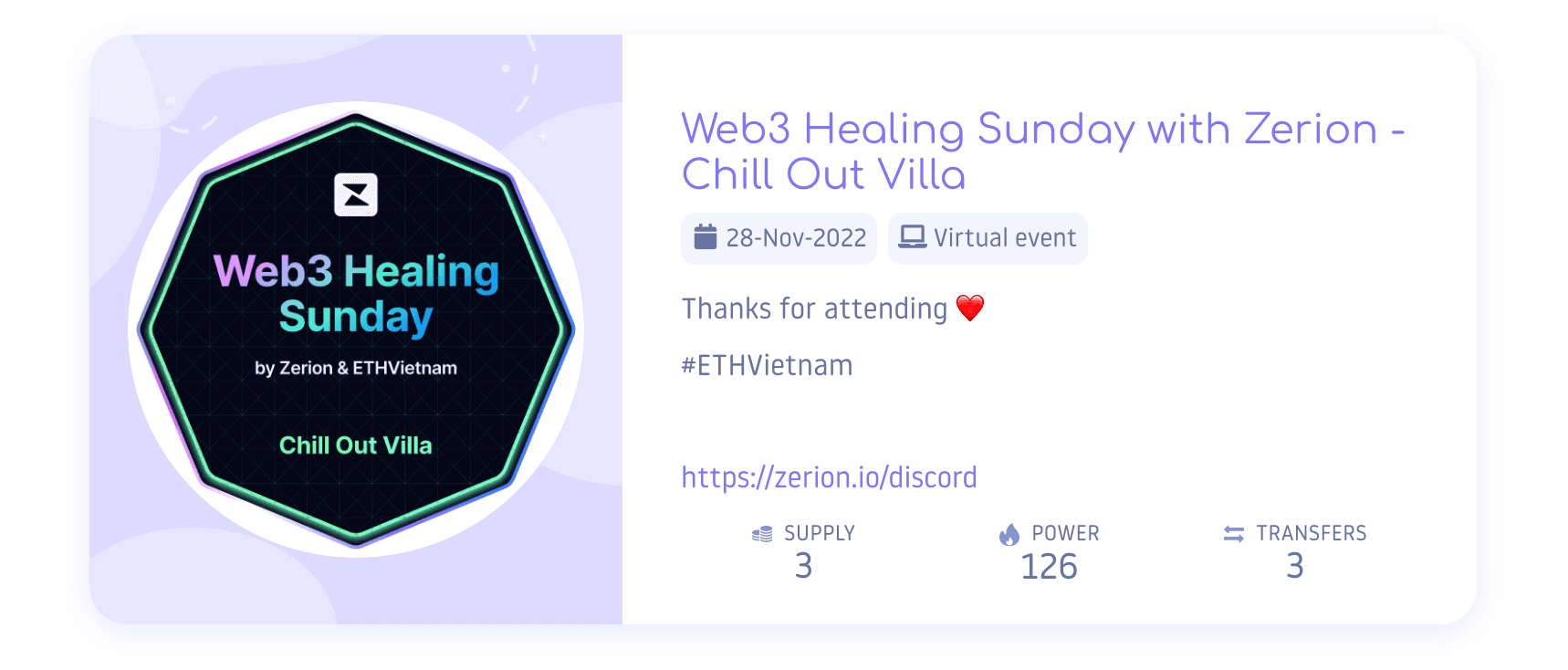 These POAPs became so popular that we had to start charging $3 to mint them. The proceeds go into the Zerion Community Fund.
We also made it simple to get your money back 👇
Dispatch Quests
If you listened to the call and can answer a few simple questions, you get your POAP mint fee back.
We do this through Dispatch Quests: correctly answer the questions and get your money. This encourages high quality engagement.
Event NFTs
For major events and conferences we often create unique NFTs that friends and people we meet can claim:
Keeping It All Onchain
Our users, fans and community members who interact with us on these channels deepen their onchain relationship with Zerion.
Some addresses have touched (minted, claimed, followed, etc) all sides of Zerion's onchain branding. Although we don't know exactly who these people are, we do not that they are some of the most active and engaged members of our community.
Our goal is to expand our onchain branding over the coming months and offer new ways for web3 citizens to join us.
Announcing: Zerion OG, Mirror Subscriber NFT
With this in mind, we're proud to announce the latest way for you to join our onchain community: The Zerion OG NFT.
As a Mirror launch partner we're helping pilot a new feature within the premier web3 blogging tool that will allow users to mint NFTs directly within Mirror.
The Zerion OGs NFT is a free mint that will be open for 8 days beginning Wednesday March 8. Holding this NFT enables access to gated content, early access, and other perks exclusively for subscriber NFT holders.
NB: You can view this and other Optimism NFTs in your Zerion Wallet! If you mint it in another wallet, just connect it to app.zerion.io and enjoy all your multichain NFTs.