If you are following the Web3 ecosystem you have probably heard about the Optimism blockchain.
In case you haven't, Optimism is one of the most promising layer-2 scaling solutions for Ethereum. Here are 3 reasons why:
Optimism is fast — it can process up to 10x more transactions than Ethereum

Optimism is cheap — transactions are up to 100x cheaper than on Ethereum

Optimism is compatible with the existing Ethereum ecosystem of tokens and applications
Today we're zooming into the Optimism NFTs ecosystem covering NFT collections and marketplaces.
The big picture
But first, let's put things in perspective.
In recent months, the Optimism blockchain has drawn numerous NFT projects and marketplaces, partly due to attractive incentives like $OP airdrops and quests. As a result, the NFT projects landscape on Optimism has developed in notable ways, with some unique NFT categories that we'll analyze later on.
Nonetheless, the intense rivalry among Layer 2 blockchains and the tendency for incentive programs to hold users only when active causes significant fluctuations in transaction volume and activity. This is attested by the cart below which shows abrupt changes in transactions per day on Optimism.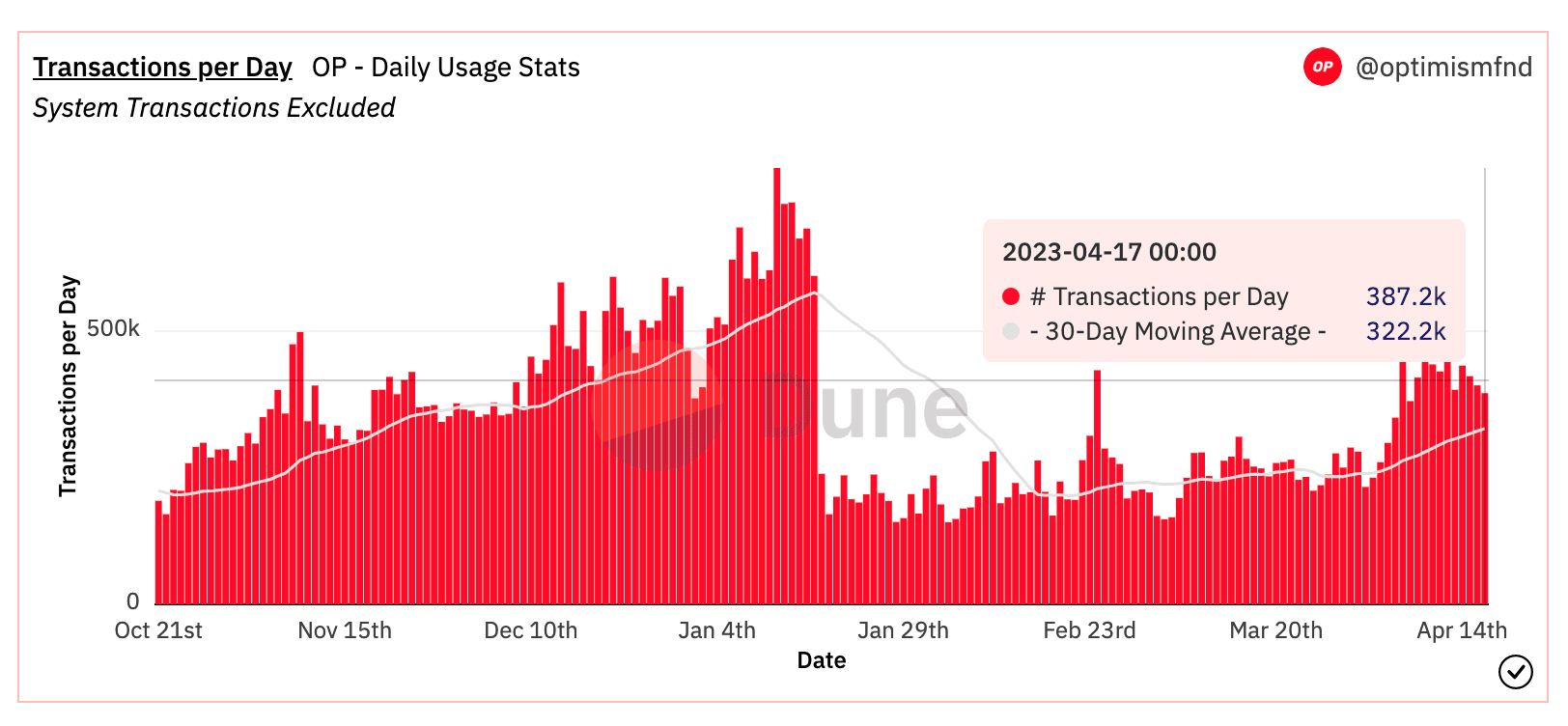 We'll see that these market conditions present challenges for builders, as marketplaces grapple with securing funding and stabilizing revenue.
What are Optimism NFTs
Optimism NFTs are digital assets that are minted or traded on the Optimism blockchain. NFTs can be digital artworks like PFPs, in-game assets, memberships or any type of digital goods.
NFTs On the Optimism blockchain have the same technical standards as on the Ethereum blockchain, meaning that Ethereum apps can be easily deployed and used in the Optimism NFTs ecosystem.
According to NFT marketplace Zonic, Optimism is the first Layer-2 chain to have reached 10 million NFTs minted in its ecosystem.
What's interesting about projects on the Optimism blockchain today is that only a minority of them are PFP projects.
NFT projects on Optimism
PFP collections
Within the realm of PFP collections on Optimism, some are Ethereum-inspired projects, such as the Optimism Ape Yacht Club (OAYC), which holds the title for the most traded project on Optimism with a total volume of 237 ETH. Others like Apetimism and Optimism Chads are original to the Optimism ecosystem and account for small trading volumes.

The chart above displays OAYC trading volumes up to April. It's clear that the hype around PFP collections was mainly concentrated in the early days of Optimism's development. This raises the following question: what does the Optimism NFT ecosystem look like today?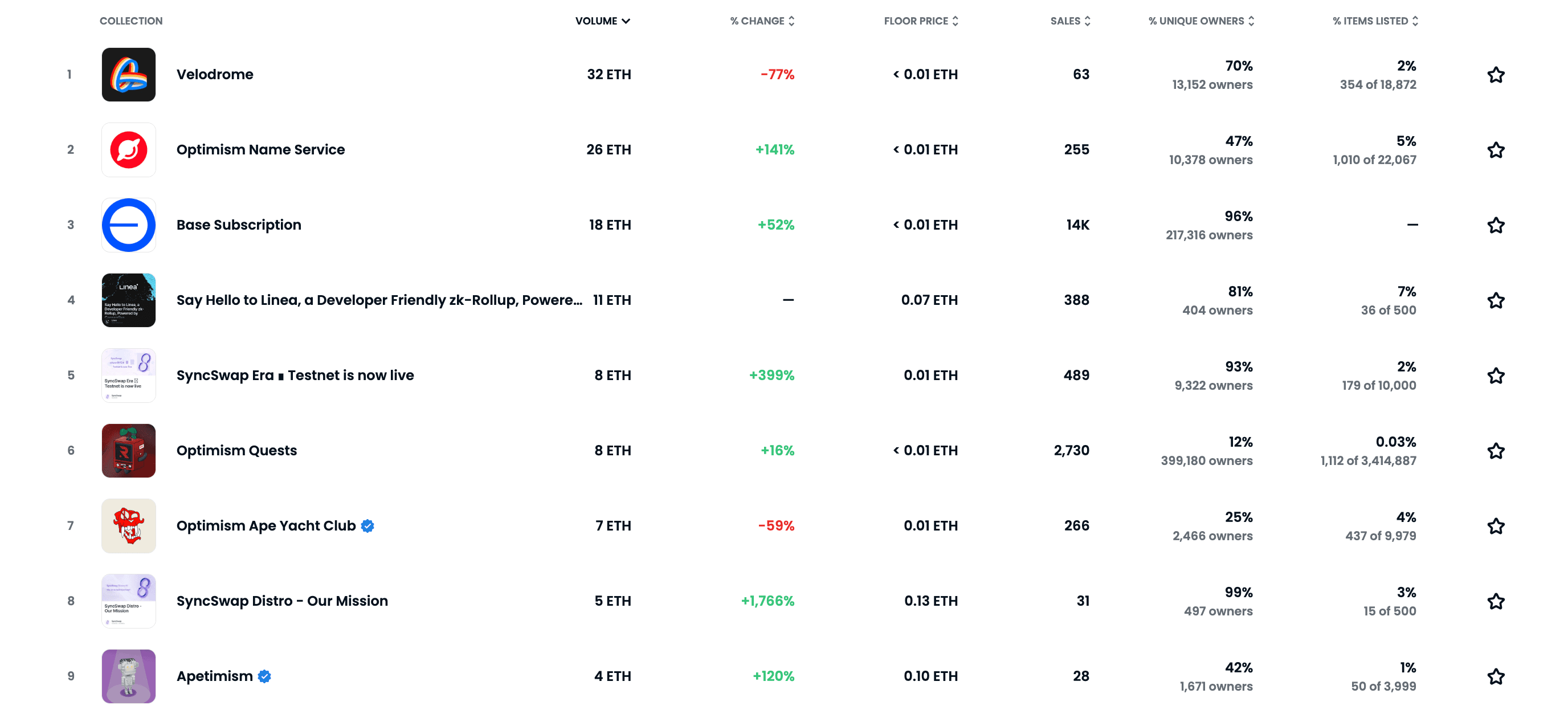 A closer look at the top 10 projects from the last 30 days shows the Optimism NFT ecosystem has a unique mix. Non-PFP collections made up 75% of total volume, falling into these three categories:
Governance NFTs

Quest NFTs

Writing NFTs
Velodrome governance NFTs
Velodrome Governance NFTs are ruling the Optimism NFT scene due to their privileges in Velodrome Tokenomics, yielding advantages like:
Earning pool trading fees

Bribes – external network rewards for liquidity providers

Rebases – Velodrome NFTs given to current holders to prevent voting power dilution

Governance influence
You can get Velodrome NFTs by locking $VELO tokens on their website or buying them on secondary markets like Opensea.
Optimism Quests & Optimist NFTs
Optimism Quests NFTs aim to educate new users in the Optimism ecosystem at large. 
For each quest, users need to:
Take a quiz

Complete a task on a third-party app like Velodrome or Uniswap

Receive an NFT as a reward
Optimism Quests Season 1 ran from September to January, involving 18 third-party apps on Optimism. While Season 2's dates aren't announced yet, it's likely to happen in 2023.
An important detail is that Optimism Quest NFTs can alter traits on "Optimist NFTs," the PFP collection by the Optimism team. Currently, only voters in the retroactive public goods funding round 2 (RPGF 2) can claim Optimist NFTs, as it's still in beta. Minting will open to the public gradually in months to come.
Expect Optimist NFTs to play a central role in the Optimism ecosystem's future, with use cases like identity and reputation. Something to keep an eye on.
Mirror Writing NFTs
Mirror Writing NFTs might be new to some, so let's give some background first. 
Mirror is a Web3 native blogging platform founded in late 2020 that self-describes as "the home for Web3 publishing." The team has experimented with innovative Web3 tools for writers, like embedding crowdfunding campaigns via NFT sales in blog posts.
With Optimism's launch, the Mirror team saw an opportunity to let readers collect blog posts in a cheap and efficient way through Writing NFTs.
Writing NFTs lets readers collect blog post-related NFTs and support writers. This allows writers to monetize their work and create an on-chain community that genuinely backs their journey. 
With writing NFTs Mirror quickly became a top NFT issuer in the Optimism ecosystem. Layer 2 blockchains like Base, Linea and ZKsync are the projects with the most collected writing NFTs. Base's first blog was collected by a mind boggling 215k wallets as collectors probably speculate that these NFTs are synonymous with future value.
NFT marketplaces on Optimism
In just a few months, Optimism has seen a broad range of NFT marketplaces emerge. Some have already experienced a rise and decline. Only Opensea, the Ethereum giant, hasn't shown signs of financial struggle. This is partly due to high infrastructure costs and the volatility of user activity over the past few months.
For example, Optimism NFTs transaction volume peaked at 800ETH in December during $OP incentives. But it fell to ~130ETH in March after incentives ended.
Thankfully, the recent retroactive funding round aims has brought a breath of fresh air to projects. Let's take a look at the most significant players so far.
Quix's rise and decline
Quix, the first-ever marketplace on Optimism, launched in December of 2021, focusing solely on Optimism. The team behind Quix achieved notable milestones, including building the ERC-721 bridge on Optimism and integrating various Ethereum projects like Mirror to the platform.
Despite the website still being live, the development team recently announced Quix would "wind down" and cease operations by the end of February due to high operational costs. Trading has been redirected to Opensea, and the Quix codebase is now open-source for developers to utilize. However, there is some hope, according to the latest tweet.
NFTearth takes over
NFTearth surfaced in January 2023 as Quix's intended successor, with its founder believing he had solved Quix's infrastructure issues.
Aiming to be the leading Layer 2 marketplace, NFTearth has added blockchains like Arbitrum and ZKsync besides Optimism. It is also developing an "NFT Hub" that intends to be a comprehensive resource for NFT creators, collectors, and DAOs. According to Optimism's grants website, the NFT Hub will facilitate NFT art generation, contract deployment and management, as well as the creation of allowlists and mint embeds for their NFTs.
The platform has a genesis collection traded on Optimism and features an $NFTE token which the documentation says "provides multiple utilities and governance rights over the protocol". 
NFTearth recently disclosed on their Discord that they were urgently looking for funding.
Zonic across multiple chains
Zonic debuted simultaneously on Optimism and Arbitrum, swiftly adding support for Polygon, zkSync, Scroll, and 0xMantle Testnet. 
Remarkably, Zonic has mostly been a solo project led by the founder of the Optimism PFP collection, Apetimism. 
Zonic has a quest program where users can earn Gift Boxes that are redeemable against rewards. The program is available on the Zonic website and will end on April 15th.
Although the team secured funding from the Optimism Collective, the current team size and sustainability plans remain undisclosed.
Opensea, too big to fail?
Finally, OpenSea introduced support for the Optimism blockchain in September 2023, becoming the second-largest marketplace in terms of volume, just behind Quix. 
Due to OpenSea's substantial size, it should remain unaffected by volume volatility on Optimism.
Whatever marketplace you choose to use, you first need a wallet.
Zerion Wallet for Optimism NFTs
Few wallets fully support Optimism NFTs — but Zerion Wallet does! 
Whenever you mint or trade an Optimism NFT, you can see this in your transaction history in Zerion Wallet. The NFT then appears in your NFT tab, arranged by collections or as a list. Zerion also tracks your floor price (if the collection has trades), and you can switch between ETH and $. If you have lots of NFTs, you can filter by collection to find the ones you're looking for. 
To see how Optimism NFT tracking works in practice, check out an address in the Zerion web app.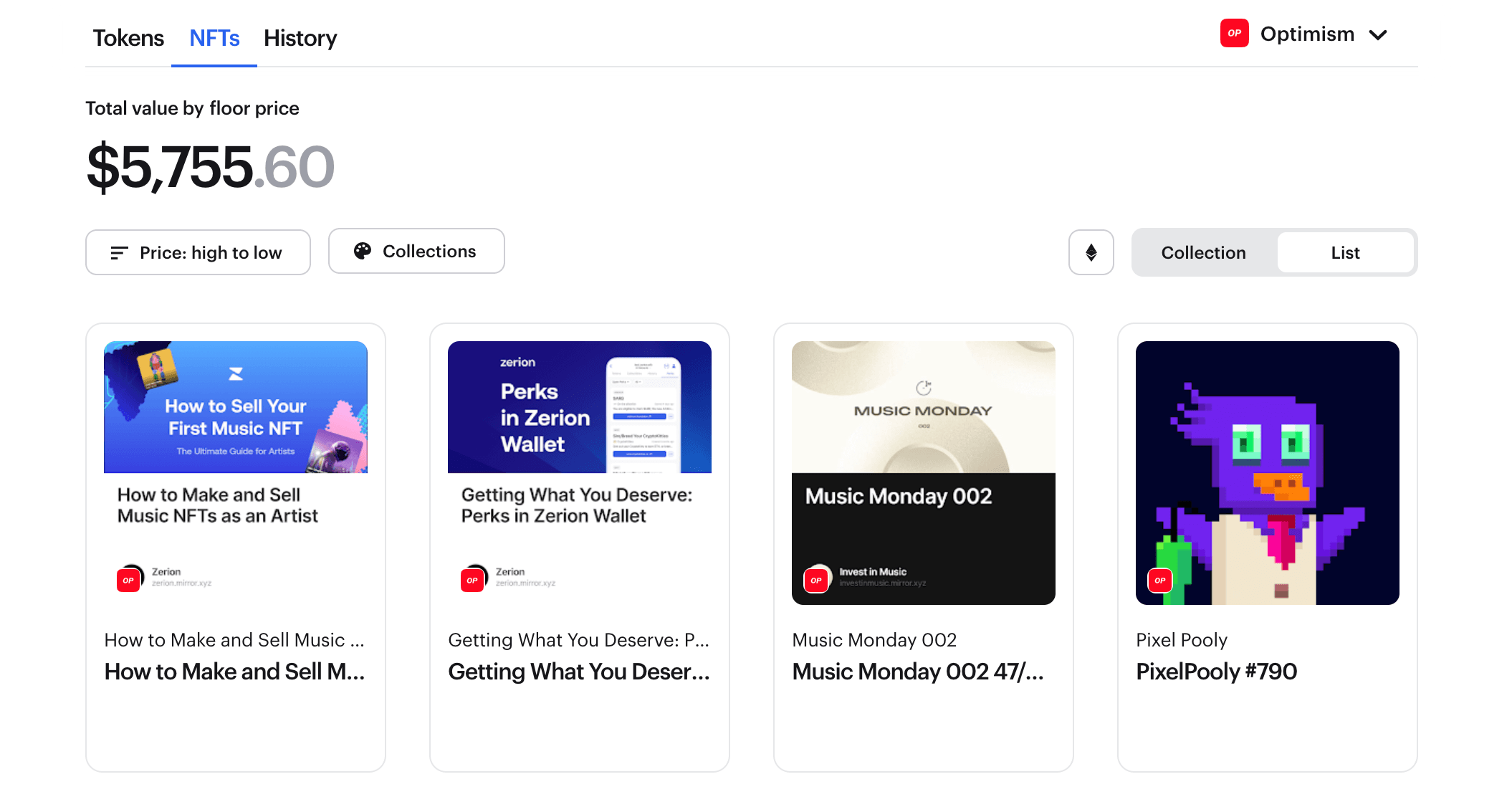 You can easily import your existing address into Zerion Wallet with the seed phrase or private key. 
Get your first Optimism NFT: mint this post!